Atlanta - Free at Last!
June 28, 2014
Diving into Atlanta I had to laugh at myself a bit as I realized that part of me was actually expecting a scene from Gone with the Wind to unfold before me as I made my way through the city streets for the first time. Silly me. I was even feeling a bit disappointed at first when what I experienced instead was an extremely clean, modern, and vibrant urban city. The disappointment was short lived though and it soon gave way to a post New Orleans feeling of relief and anticipation.
My first stop was the tourist center downtown as I hadn't done much research in advance and thought this would be a good place to start. A good choice on my part as the woman there was not only unbelievably friendly but full of information and more than willing to help. She pointed me in the direction of a great coffee shop a few blocks away so I could start my day with a cup of chai, a tradition of mine each time a roll into a new city, and off I went with maps and literature galore as well as bottle of water for the Lu. She was very concerned about her hydration needs for the day!
The coffee spot was perfect and I loved their daily quote as well the reading material I perused while there. "The Tao of Willie" by Willie Nelson. Perfect ….
I realize that with just one day I only saw a tiny portion of Atlanta, but I was truly struck by not only how clean and calm this city without sacrificing a feeling of vibrancy, but also by how kind it seemed to be. I found the people of this city to be lovely and so polite - I don't think I've called ma'am so many times in one day!
Here are a few photos from my walk through downtown …
After walking about for quite awhile both Lulu and I were ready to chill for a bit and soon found ourselves at the Centennial Olympic Park. Nothing spectacular as far as parks go but I give being able to watch the kids playing in the water fountains an A+ in my book. We arrived just in time to see a water show set to music and then the free-for-all began … so much fun on a hot summers day and almost as much fun for those of us just watching!
In downtown Atlanta they have a free streetcar that makes a continuous loop through the historic district making it really easy to get around. We jumped on not knowing exactly where it would take us other than it would loop back around eventually, and we soon found ourselves at the Martin Luther King Jr. National Historic Site.
It turns out he was born in Atlanta in 1929 and lived in this very neighborhood until he was 12. I walked by his family home, the simple row houses in the surrounding neighborhood, and the old fire station (Fire Station No. 6) that he frequently visited as a child.
For a period of time he was also co-pastor with his father at the Ebenezer Baptist Church which is just a block away from his birthplace. The church is open during the day to visitors and it's quite a powerful experience to just sit in the pews where so much history was made.
But what was most moving to me was sitting in front of the tomb where he and his wife Coretta Scott King are buried, and taking the time to just sit and listen to his "I have a dream" speech from beginning to end, something I had not taken the time to do before now. It is a profoundly powerful speech and I was easily brought to tears.
If you have not heard it before I encourage you to take a few minutes to do so by clicking here:
Our final destination for the day was the historic Oakland Cemetery. I'm honestly not obsessed with cemeteries and don't make it plan to visit one in every city I go to … but I had read that Margaret Mead, the author of Gone with the Wind, was buried here and I figured it was as close as I was going to get to the Atlanta I had in my head so decided what the heck.
It was a quite a surprise as was all of Atlanta really - clean, beautiful and more like a park than a cemetery. I could have hung out there for hours. Here are a few of my favorite images I captured while I was there.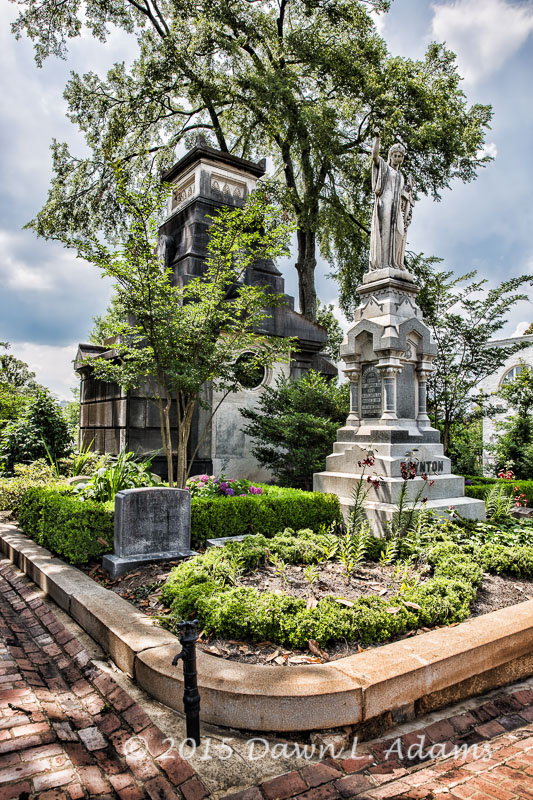 If you enjoyed these photos and would like to see the entire gallery of my day in Atlanta click here:
Thank you Atlanta for sharing a bit yourself and your amazing history with me. It was an honor to come to know you just a little bit better. And thank you Dana and John Homaneck for your gracious hospitality!
Until next week from Asheville …
XOXO, me and lu