A Magical Morning in Mystic
July 24, 2015
I don't know why exactly I chose to go to Mystic. I actually knew very little about it nor did I know anyone who had ever been there, but I am so glad I decided to go. I noticed it on a map while trying to figure out my next move and I thought, what the heck? Sounds like fun! I had three full days until I needed to pick Richard up in Providence and I was really looking forward to exploring this little seaport town. I knew almost nothing about it except that a little movie called Mystic Pizza was filmed there back in the 80's.
I've stayed in some pretty cool places during my travels but the little carriage house I found for my stay in Mystic was hands down, one of the cutest place I have ever stayed in. I arrived late on a Tuesday afternoon after spending the weekend in Newark and everything about my little place, as well as my stay in Mystic, was pretty darn magical.
A shout out to the owner Susan for putting together such a sweet little place and for making Lulu and I feel so completely welcome. Well done Susan!
The carriage house was just a short two block walk to town so I dropped our bags and we headed out. It was a beautiful summers eve just a little before sunset and we strolled onto main street just in time to see the mystic draw bridge being raised … quite a thing to see!
The Mystic River runs right through the heart of town and truly seems to be the center of life in Mystic. It's a small town that's busy with activity and full of happy, seemingly contented people most everywhere you go. There was a concert in the park happening that first night and folks were out simply enjoying life … strolling on the river front, kayaking along the river, or just out with the family for an after dinner ice cream. Can't say I think it gets much better than that.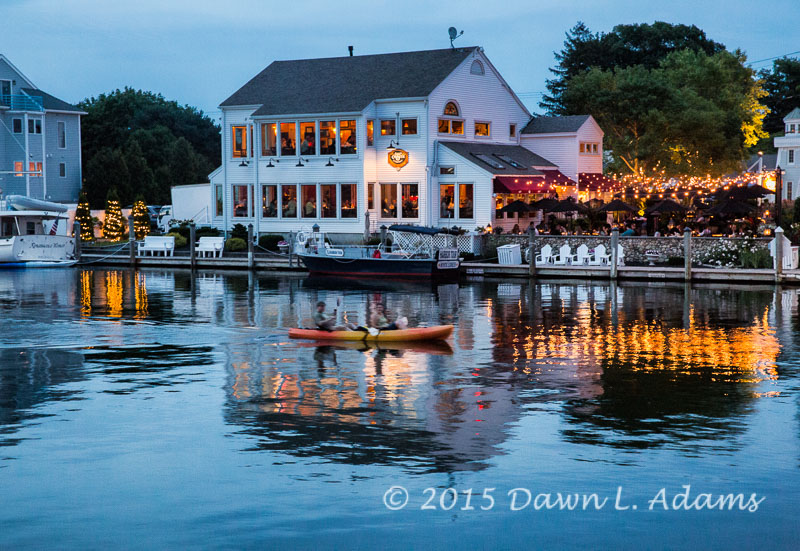 Did I mention that the movie Mystic Pizza was filmed here? Maybe a little corny but have to say it was kind of fun seeing the real Mystic Pizza in operation. No, it wasn't actually filmed here, that happened in a neighboring town, but apparently it did serve as the inspiration for the movie. They also have gluten free pizza which may or may not have been good for me!
The Mystic bridge is where they filmed Jojo (Lili Taylor) yelling at her boyfriend Bill for changing the name on his boat when she won't commit to a new wedding date. Can't remember what he changed it to? Guess you'll have to go back and have some fun watching it again like I did ...
But the most fun was finding Ford's Lobsters, which is actually in Noank, and was the location where they filmed the scene where Kat (Annabeth Gish) brings a pizza to her Mom at work on the back of her scooter. It's a cool place to visit and eat some lobster even if your not a fan of the movie. It's also a great back drop for a fun photo and sunset is the perfect time to be there ....
When my friend Karen heard that I was in Mystic she told me about how her mother used to take her to the Mystic Seaport when she was a child and that she had loved going there. That was enough for me so on day two Lu and I headed over to the old seaport to check it out.
And it was fun. They have done a good job recreating what life would have been like in an old New England seaport town with buildings that are the real thing, moved there from various parts of the state. You can board the old sailing vessels and get a glimpse of what life might have been like on these as well.
For me, I enjoyed the quiet and simplicity of strolling along the water front and being able to see more of the Mystic River while imagining life from a time gone by.
But the best day was my last day. I was up and out the door early, totally not my normal MO, but something was calling me that morning. I grabbed my cup of chai at the local coffee shop I had found and headed for the water front. I watched as the new day came alive in Mystic absent for the most part of tourists.
As I strolled along we watched the early morning fishermen as the kayakers and rowing teams passed by on water that look like glass.
Locals were enjoying their coffee and morning paper, always taking a moment to say good morning and chat for a few, taking interest in me and my story.
And this fellow actually invited me to see the inside of the fire boat I was photographing and shared with me a little about his job as a fireman in Mystic and life on the water.
Lulu looks pretty good at the helm, don't ya think?
I even felt brave enough to wander through the shipyard a bit, venturing into places I was probably not supposed to be in truth, but other than a few quizzical glances shot our way nobody seemed to give a hoot. I think they found the lady with the camera and the dog to be rather entertaining!
It was a magical morning that I will not soon forget and I have to say, Mystic may just be my favorite port of call thus far. Following my intuition to come here in the first place turned out to be a good choice, a very, very good choice in deed!
If you enjoyed this story and would like to see all of my photos from Mystic you can do so by clicking here:
Until next week from beautiful Cape Cod ….
XOXO, me and lu